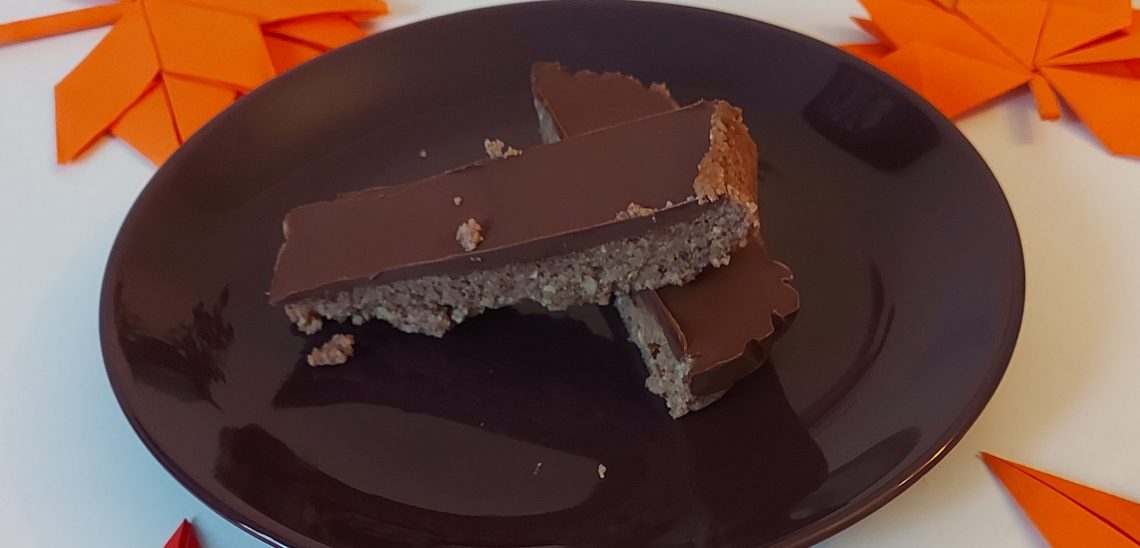 In Hungary we say: If it's autumn, it's walnut time! Try this retro sports bar with a little twist. A real delicacy that you can even take with you on the road.


Ingredients:
150 grams – 1+1/3 cup walnuts
100 grams – 1 cup gluten-free oats
1 teaspoon cocoa powder
60 grams – 1/3 cup erythritol
85 grams – 1/3 cup free-from peanut butter (sugar-free, gluten-free)
1 decilitre – 1/2 cup sugar-free non-dairy milk
75 grams – 1/2 cup free-from dark chocolate (sugar-free, diary-free)
1 tablespoon coconut oil

Directions:
Grind the walnuts and oats.
Add the cocoa powder and erythritol.
Heat the non-dairy milk and peanut butter. Wait for the peanut butter to melt in the milk.
Add to the dry mixture and knead into a dough.
Flatten the dough on a baking sheet lined with baking paper, then put it in the fridge to set.
Melt the dark chocolate with the coconut oil.
Spread the melted chocolate on top of the dough, then put it back in the fridge to set for 1-2 hours.
When the chocolate has set, slice it.
Eat healthy and delicious!